October 18, 1648 - Boston shoemakers, barrel makers, and tub makers formed first U.S. labor organization.
1774 - Johann Adam Birkenstock registered as "subject and shoemaker" in church archives in small German village; 1897 - Konrad Birkenstock (grandson) designed first shoe with contoured insole to be used by shoemakers in production of custom footwear; 1902 - developed first flexible arch support; 1964 - introduced Birkenstock sandal; 1966 - Margot Fraser began Birkenstock Distribution USA, Inc. in California; April 13, 1976 - Birkenstock Orthopadie Gmbh registered "Birkenstock" trademark first used December 30, 1774 (first used in commerce December 15, 1962 - footwear-namely, sandals, shoes, and shoe insoles).
May 1, 1794 - Group of shoemakers joined forces in Philadelphia in battle for wages and workplace amenities; christened themselves Federal Society of Journeymen Cordwainers; move to unionize due to shift from "economic clientage" to open wage system that occurred in America during late 18th century; workers joined forces to legitimize wage scales, guard against competition from bargain-basement priced labor, craftsman.
1804 - Thomas and Amos Evans ran small shoe business attached to general store in South Reading, VT (cut leather parts for their shoes); supplied all uppers, soles, counters, heels, farmed shoe making process among local citizens (shoemaker-farmers assembled shoes, sewed by hand whenever spare time could be found); 1832 - James Madison Evans entered business; 1841 - Lucius Bolles (L.B.) Evans (younger brother of James Madison) started his own shoe business (became founder of present L.B. Evans Company); pre-1880 - Harvey B. Evans (son) beaome partner; 1905 - incorporated as the L.B. Evans' Son Company; came to specialize in high quality men's slippers (leather, suede, wool); May 29, 1956 - L.B. Evans' Son Company registered "Evans" trademark first used in January 1915 (men's ad boys' shoes and slippers); February 2000 - acquired by Daniel Green Company; December 2001 - Daniel Green, L.B. Evans, Woolrich lines acquired by Elan-Polo, Inc. (formed Daniel Green Enterprises, LLC).
July 9, 1808 - Samuel Parker, of Billerica, MA, received a patent for "Tanning", a leather splitting machine.
1816 - Johann Scheer started making shoes in Vienna, Austria; second half of 19th century - Rudolf Scheer (grandson) built business; renamed Rudolf Scheer & Sohne; 1878 - named "imperial and royal shoemaker to the court" (Austro-Hungarian imperial court); post WW II - Carl Ferdinand Scheer assumed control; mid-1990s - Markus Scheer (Carl's grandson, 7th generation) took over.
1825 - Cyrus Clark started tanning sheepskin rugs in Street, Somerset, UK; 1830 - he and James (brother), introduced sheepskin slippers; developed reputation for making 'foot friendly' shoes; 1950 - Nathan Clark introduced 'Desert Boot'; April 3, 1951 - C. & J. Clark Limited registered "Clarks" trademark in U. S, (boots, shoes, and slippers for men, women, and children); 2005 - sales of 955 million pounds, 12,700 employees, manufactured 41 million pairs of shoes.
Cyrus Clark - C&J Clark International (http://www.spartacus.schoolnet.co.uk/Bclark.jpg)
1850 - William J. Dudley, master craftsman schooled in classic tradition of English shoe making, established William J. Dudley Shoe Company in Newark, NJ home; sent pair of handmade shoes to Millard Fillmore, 13th President of United States; 1880 - James Johnston, Newark businessman, became Dudley's partner; 1881 - Dudley died, Johnston assumed control, renamed company James Johnston Company; 1884 - William A. Murphy, another prominent Newark businessman from distinguished family (his brother became governor of state) formed partnership with Johnston; name changed to Johnston & Murphy; 1895 - Murphy interest acquired by Herbert P. Gleason, company's former top salesman; 1951 - acquired by General Shoe Corporation, now Genesco Inc.; April 5, 1955 - Johnston & Murphy Corporation registered "Johnston & Murphy" trademark first used in 1911 (leather boots and shoes); 1971 - opened first retail shop bearing its name in Schaumburg, IL.
1851 - Carl Franz Bally, Fritz Bally established Bally & Co. in Schonenwerd, Switzerland; 1854 - first factory; late 1850s - brother left business, name changed to C. F. Bally; first stores opened in Basel, Bern, Zurich; shoes exported to South America; 1860s - over 500 employees; 1870s - production almost entirely mechanized; 1892 - son took over; name changed to C. F. Bally & Sons; 2 million shoes per year produced; 1907 - company went public; 1916 - 3.9 million pairs of shoes sold; 7,159 employees; September 6, 1927 - Chaussures Bally Societe Anonyme de Fabrication registered "Bally" trademark first used October 31, 1907 ([boots,] [shoes,] [sandals, moccasins, and bath slippers made of leather, rubber, fabric, or combinations thereof]); 1977 - majority ownership of company by non-family members; 1990s - acquired by Texas Pacific; 2000s - 200 single-brand stores around world.
Carl Franz Bally - Bally Shoes (http://www.petervoellmy.ch/ bally2.jpg)

July 6, 1858 - Lyman R. Blake, shoemaker from South Abington, MA, received a patent for "Improvement in Sewing-Machines" ("an improved machine for sewing a sole on a boot or shoe"); first shoe-sole machine (mechanized shoemaking); revolutionized the shoe industry and helped establish Plymouth County as the nation's shoe manufacturing capital.

1863 - John A. Frye, well to do shoemaker from England, founded shoe business; ran business for nearly 50 years; worn by soldiers for both sides of America's Civil War, soldiers in Spanish- American war, Teddy Roosevelt and his Rough Riders; 1911 - died, family continued to run company until 1945; May 18, 1976 - John A. Frye Shoe Company, Inc. registered "Frye" trademark first used January 1, 1952 (boots and shoes of leather and/or synthetic materials); 1998 - acquired by Jimlar Corp.; oldest continuously operated shoe company in United States.

1870 - John Morland bought tannery in historic town of Glastonbury, UK.

January 24, 1871 - Charles Goodyear, Jr. received a patent for a "Machine for Sewing Boots and Shoes"; Goodyear Welt construction.

1873 - Thomas Church, his three sons (Alfred, William, Thomas Jr.) founded Church's Shoes in Northampton, UK; 1881 - first shoemaker to introduce concept of "left" and "right" in shoe pairs; 1921 - opened first shop in London; 1999 - acquired by Prada Group; April 2003 - 55% equity interest acquired by Equinox Management Co. (private investment fund); December 2006 - 55% interest owned by Equinox reacquired by Prada Group.

1876 - George Henry Bass purchased half interest

in E. P. Packard and Co., boot and shoe manufacturer in Wilton, ME; 1877 - acquired Packard's interest; 1880 - sold tannery; renamed shoe business to G.H. Bass & Co.; 1906 - incorporated.

1879 - James Crockett & Charles Jones established in Northampton, UK (Detroit of British shoe industry); specialized in making Goodyear-welted shoes; fifth generation.

February 3, 1880 - Black American inventor, Joseph W. Waller of Baltimore, MD, received patent for a "Shoemaker's Cabinet or Bench"; design combined a cabinet and a calf-skin seat with compartments and divisions for boxes, jars and bottles; pockets for holding various tools; provided with a lamp for heating purposes and a groove for stones for sharpening tools; entire assembly could be shipped as a compact box.

1881 - Daniel Green, shoe salesman, found that company manufacturing felt for pianos had also fashioned some slippers used by factory workers to keep their feet warm; Green, his brother acquired license to market felt slippers, set up Daniel Green Company at their home in Canastota, NY, sold "Original Comfy Slipper Company"; late 1920s - advertised nationally; 1960s - manufactured wider variety of slippers, shoes for women and men; 1987 - James Riedman joined company, acquired 35% interest (through Riedman Corporation insurance company); 1996 - became chairman, chief executive officer; mid-1980s - as many as 700 employees (reducecd to 300 by 1998); June 1999 - all footwear manufacturing outsourced overseas (Spain, China, Mexico), income of $1.5 million on sales of $15 million in 1999; February 2000 - acquired number of brands from L.B. Evans & Son Company Limited Partnership (oldest footwear manufacturer in United States, established in 1804; leader in men's slippers); April 2000 - acquired Penobscot Shoe Company for $17.8 million (publicly traded importer of women's footwear, owner of Trotters brand); January 2001 - Riedman Corporation acquired by Brown & Brown Inc. for $62 million; December 2001 - Daniel Green, L.B. Evans, Woolrich lines acquired by Elan-Polo, Inc. (formed Daniel Green Enterprises, LLC); focused on fast-growing Trotters, SoftWalk brands; May 2002 - name changed to Phoenix Footwear Group, Inc.; August 2003 - acquired H.S. Trask & Co. (produced Western-style boots in exotic materials such as bison, longhorn, elk leather); October 2003 - acquired Royal Robbins brand for $11.5 million; July 2004 - acquired Altama Delta Corporation, boot manufacturer.

1883 - G. A. Krause, Fred Hirth (uncle) founded shoe making company; 1906 - incorporated as

Hirth-Krause Company; 1914 - selected Wolverine brand name for shoes made of Wolverine horsehide leather; called "1000 Mile Shoes"; 1921 - name changed to Wolverine Shoe and Tanning Corporation; 1957 - Victor Krause, Chairman, developed oxford shoe that utilized new technology in tanning process of suede; first truly casual shoe; July 1, 1958 - registered "Hush Puppies" trademark first used May 21, 1957 (shoes); name suggested by Jim Muir, company salesman; had dined at friend's home in Tennessee; enjoyed Southern dish of fried corn dough called "Hush Puppies"; told that any remaining corn dough was fed to dogs to keep them from barking (common to refer to aching feet as "barking dogs"); 1964 - name changed to Wolverine World Wide, Inc.; 1997 - acquired Merrell brand, began process of developing leading global brand in performance outdoor footwear; 2003 - acquired Sebago, authentic American brand featuring hand sewn dress casual and performance marine footwear; 2005 - sales topped one billion dollars for first time.
G.A. Krause - founder Wolverine World Wide (http://www.wolverine.com/%7EUploaded/Assets/WBRV/images/img1.jpg)

March 20, 1883 - Jan E, Matzeliger, of Lynn, MA, received patent for a "Lasting-Machine"; shoe-lasting machine; May 19, 1885 - began the first U.S. mass production of shoes, in Lynn, MA.

1892 - Milton Florsheim, Sigmund

Florsheim (father), began producing shoes in small factory in Chicago, IL; April 26, 1910 - Florsheim Shoe Company registered "The Florsheim Shoe" trademark first used January 1890 (cloth and leather boots and shoes); 1952 - acquired by International Shoe Company (Interco); 1962 - sales of $350 million, 70% of men's dress shoe market, more than half of Interco's earnings; 1964 - Thomas Florsheim Sr. bought $750,000 of stock in Weyenberg Shoe Manufacturing Company (later called Weyco); joined company; 1987 - son joined Weyco; 1994 - second son joined; 1991 - Interco filed for Chapter 11 bankruptcy protection; 1992 - majority stake acquired by Apollo Investment Fund; Florsheim spun off as public company; May 2002 - acquired by Weyco Group (Glendale, WI) for $45 million; back in Florsheim family.

August 29, 1893

- Whitcomb Judson, mechanical engineer from Chicago, received a patent for a "Clasp Locker or Unlocker for Shoes" ("for automatically engaging or disengaging an entire series of clasps by a single continuous movement"; a slide fastener; launched Universal Fastener Company to manufacture new device; public debut at the 1893 Chicago World's Fair, met with little commercial success.

August 24, 1894 - Tomáš (18), Anna, Antonín Bata registered T.&A. Bata Shoe Company in Zlin, Czechoslovakia; 1895 - Tomas Bata assumed leadership; 1897 - introduced 'Batovka' (first fabric shoe), mechanized production; 1905 - 250 employees produced 2,200 pairs per day; 1917 - 5,000 employees produced 2 million pairs per year; 1925 - "Bata system" organized operations in autonomous workshops with employee profit sharing (introduced in 1923); Bata School of Work founded, provides rigorous education, practical training to future Bata managers; early 1930s - world's leading footwear exporter; 1932 - Jan Bata (uncle) took over after death of Tomas; 1939 - 60 million pairs sold per year in more than 30 countries; 1966- Thomas Bata Sr. (son) gained control; 1984 - Thomas Bata Jr. (grandson) took over as president/CEO of Bata Ltd.; 1993 - replaced; 2001 - returned after succession difficulties resolved by new ownership structure.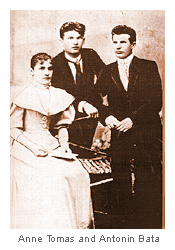 Anna, Tomáš, Antonín Bata - Bata Ltd. (http://www.darius.cz/bata/anne_tomas_antonin_bata.gif)
1895 - Joseph William Foster founded J.W. Foster and Sons Limited in Bolton, Lancashire; made shoes by hand for top runners; developed international clientele of distinguished athletes (1924 Summer Games celebrated in film "Chariots of Fire"); 1958 - two grandsons left family business, started rival company, Reebok (named for African gazelle); 1979 - Paul Fireman, partner in outdoor sporting goods distributorship, spotted Reebok shoes at international trade show; negotiated for North American distribution license, introduced three running shoes in U.S. ($60, most expensive running shoes on market); April 22, 1980 - registered "Reebok" trademark first used in February 1965 (shoes for use in athletic sports); 1981 - Reebok's sales exceeded $1.5 million; 1982 - Reebok introduced Freestyle athletic shoe, first designed especially for women, aerobic dance exercise; explosive growth followed; 1984 - acquired by group of investors led by R. Stephen Rubin of Pentland Industries and Paul Fireman; January 2006 - acquired by Adidas-Salomon in $3.8 billion transaction.
April 1898 - Walter C. C. Snyder, William A. Donmoyer, B. F. Reider formed partnership named Sasucony Shoe Co. in Kutztown, PA as manufacturer of children's and infants turn shoes and sandals (Native American name means "mouth of a creek or river"; Saucony Creek ran through Kutztown); January 2, 1902 - incorporated as Saucony Shoe Manufacturing Company; John R. Gonser elected first president; 1968 - acquired by A.R. Hyde & Sons (founded in 1910 by Abraham Hyde); February 17, 1981 - Saucony Shoe Manufacturing Company, Inc. registered "Saucony" trademark first used in June 1976 (shoes); May 1992 - Consumer Reports gave Saucony's Jazz 3000 shoe its 'best buy' rating; sales of Saucony line rose from $11 million to $47 million, number of stores that carried Saucony shoes increased 25%, Hyde's share of American athletic shoe market doubled to 6.6%; January 1998 - Hyde Athletic Industries, Inc. reorganized, renamed Saucony Inc.; September 2005 - acquired by Stride Rite Corporation for $170 million.
May 30, 1899 - Humphrey O'Sullivan, of Lowell, MA. received a patent for a "Cushion-Heel" ("...improvement in cushion-heels bor boots and shoes, and more particularly to an improved form of cushion-heel provided with nail or screw-head chambers...made of rubber or other elastic material"); rubber sole to ease his aching feet as he stood all day.
February 15, 1905 - Charles H. Beckman founded Red Wing Shoe Company in a tiny corner shop in Red Wing, MN; first boot sold for $1.75; 1907 - produced 100 pairs per day; 1915 - produced 200,000 pairs annually; 1921 - J. R. Sweasy became president; 1985 - produced 2 million pairs annually, over 150 styles.
Charles H. Beckman - Red Wing Shoe (http://www.redwing.com.sg/images/history/1905.jpg)
1906 - William J. Riley (33 year-old English waiter) built arch supports that relieved pain suffered by people who spent all day working on their feet; founded New Balance Arch Support Company; 1909 - listed in Boston business directory under 'shoemaker'; 1928 - designed first running shoe for Boston running club (Boston Brown Bag Harriers); success of shoe spread; 1934 - top salesman, Arthur Hall, made partner; 1941 - New Balance created custom-made shoes for running, baseball, basketball, tennis, boxing; 1956 - acquired by Eleanor and Paul Kidd (daughter Hall); 1960 - introduced Trackster, first running shoe available in multiple widths (became standard for New Balance); first running shoe made with ripple sole; 1972 - acquired by Jim Davis; shoe models identified by number, not name (emphasis on New Balance philosophy, not particular shoe).
October 1906 - William Ramsay, Hamilton McKellar introduced boot polish in Melbourne, Australia; named 'KIWI' (tribute to wife, New Zealand, home of KIWI bird, New Zealand's national emblem); kiwi bird design looked good on small round tin, name was easy to see, attractive to look at; June 29, 1908 - produced Dark Tan polish (first stain polish able to restore, maintain, alter color of faded leather; later introduced Light Tan, Brown, Ox Blood, Black, patent leather polish);1910 - McKellar left company; 1916 - merged bAustralian parent, English subsidiaries, formed The Kiwi Polish Company Pty. Ltd. (John Ramsay, father of deceased William, as chairman); May 24, 1932 - KIWI Polish Company Proprietary Limited registered "KIWI" trademark first used April 1908 (polishing preparations for boots, shoes, and leather goods); 1984 - acquired by Sara Lee Corporation; December 31, 2010 - Sara Lee Corp.'s global shoe care business to be acquired by SC Johnson for $328 million.

1907 - August Johansson, formerly apprentice to local cobbler in area of Bastad, in southern Sweden, started production of wooden clogs in Troentorp, small village outside town of Bastad; wind-powered lathe to carve clogs; 1942 - Borje and Stig Johansson (sons) took over clog factory; July 24, 1979 - Troentorps Toffelfabrik AB Corportion registered "Troentorps" (Bastad-Toffeln [Bastad-Clog] Anatomisk Botten [Anatomic Bottom] Troentorps Toffelfabrik [Troentorps Clog Factory]) trademark first used May 1959 (clogs).

1908 -

Marquis Mills Converse started Converse Rubber Shoe Company in Malden, MA; sold provided winterized rubber soled footwear for men, women, children; 1910 - produced 4,000 pairs of shoes daily, 1915 - diversified into tires; 1917 - created vulcanized rubber, canvas "All Star" shoe, first sneaker designed for basketball (put rubber ankle reinforcement patch on outside of sneaker with Converse star on it - first brand-name logo on athletic wear); 1918 - Charles H. (Chuck) Taylor, All American high school player (later played for original Celtics, Buffalo Germans, Akron Firestones), put on his first pair of All Star shoes; 1921 - Taylor joined company as America's first player/endorser; 1923 - "Chuck Taylor" signature added to All Star basketball shoe; 1928 - fell into receivership; 1929 - acquired by Mitchell B. Kaufmann, former president of Hodgman Rubber Company (heart attack in 1931); 1933 - acquired by Joseph, Harry, Dewey Stone (from Kaufmann estate); 1937 - introduced Jack Purcell tennis shoe; 1966 - added color choices to the basic black and white "Chuck Taylor" All Star basketball shoe; end of 1960s - 90% share of basketball shoe market; 1972 - acquired by Eltra Corporation; 1975 - "Dr. J" Erving signed with Converse as testimonial; 1979 - acquired by Allied Corporation; Larry Bird, "Magic" Johnson signed as testimonial; 1980 - acquired rights to be "official sports shoe provider" of LA's 1984 Olympic Games (promotional costs of about $10 million); 1982 - acquired in management buyout foe $100 million; 1983 - went public; 1986 - acquired by Interco. Inc.; 1987 - sales of $315 million; 1991 - 60% of stock acquired by Apollo Advisors (Interco filed for bankruptcy); November 17, 1994 - spun off by Interco, controlled by Leon Black; renamed CVEO Corporation; January 2001 - filed for bankruptcy protection; April 30, 2001 - Converse name and trademarks acquired in bankruptcy auction by Footwear Acquisition, Inc.; May 21, 2001 - name changed to Converse Inc.; September 3, 2003 - acquired by Nike for approximately $305 million.
Marquis Mills Converse (http://autonomieproject.files.wordpress.com/2008/04/converse.jpg)
Chuck Taylor - Converse (http://hoopedia.nba.com/images/c/c0/ChuckTaylorFirestone.jpg)
1909 - Ward Melville, Frank Melville's son, joined father's company; 1916 - named vice-president; 1922 - incorporated Melville Shoe company as retail holding corporation; opened first Thom McAn's on Third Avenue New York City (named after Scottish golfer, Thomas McCann); low cost, high quality shoe retailer (few simple styles of men's shoes at fixed price of $3.99); July 10, 1923 - Melville Shoe Corporation registered "Thom McAn" trademark first used August 30, 1922 (Shoes of Combinations of Leather and Rubber and of Rubber and Fabric); 1927 - Thom McAn chain grown to more than 300 stores; 1970 - Melville ranked fifth largest and most profitable U.S. shoemaker; operated 1,644 total retail outlets; 1972 - ranked as 43rd largest retailing company in United States (sales of $512 million, more than 15,000 employees.); 1974 - shoes still accounted for 71 percent of Melville's $765 million in sales; 1976 - ranked 32nd largest retailing company; 1978 - operated 3,812 stores, sales of $1.75 billion, shoes accounted for about 53 percent of total; 1995 - announced sweeping restructuring, planned to spin or sell off several businesses to focus primarily on most profitable unit, CVS drugstore chain.; 1996 - name changed to CVS Corporation (all retail chains sold).
Ward Melville - Melville Corporation (http://www.3villagecsd.k12.ny.us/Elementary/minnesauke/3villagehist/images/WardMe1.jpg)
1910 - Cobbler Abraham Hyde opened shoe store in Cambridge, MA; first products were carpet slippers (crafted from carpet remnants); 1912 - established A.R. Hyde and Sons; Maxwell C. Hyde (son) joined company; expanded product line women's and children's shoes; Worl War II - ceased production of civilian shoes, manufactured boots for U.S. Army; only shoe company awarded Army-Navy E Award for excellence in manufacturing; 1946 - returned to civilian production; concentrated on athletic footwear; 1952 - name changed Hyde Athletic Industries, Inc.; early 1960s - awarded NASA contract to supply footwear for first astronauts; 1967 - annual revenues of $5.5 million; October 1968 - acquired Saucony Manufacturing Company; 1969 - revenues of nearly $9 million; 1977 - Leonard R. Fisher (son-in-law) took over; revenues of $21 million; leading consumer magazine gave Saucony running shoes top rating; 1982 - Fisher and wife (Phyllis) acquired controlling interest in company; suit forced public offering, reduced Fishers' share to 41%; 1983 - revenues of $44.5 million, net earnings of nearly $3 million; 1985 - revenues rose to $54 million; acquired Brookfield Athletic Shoe Company (included PF Flyer brand); 1990 - John Fisher (son) took over; 1992 - Consumer Reports awarded Saucony's Jazz 3000 shoe top rating and "best buy rating"; sales, led by Saucony line, rose to $81 million, net earnings of nearly $3.5 million; January 1998 - Hyde Athletic Industries, Inc. reorganized, renamed Saucony Inc.; September 2005 - acquired by Stride Rite Corporation for $170 million.
1916 - U.S. Rubber Company introduced Keds, first national athletic, lifestyle footwear brand; January 2, 1917 - registered "Keds" trademark first used July 14, 1916 (rubber, leather, and fabric boots and shoes).
1920 - Adolf (Adi) Dassler (20) made his first shoes; produced from canvas; invented spiked shoes for track and field; July 1, 1924 - Adolf and Rudolf Dassler sports shoe company Gebrüder Dassler OHG in the Bavarian town of Herzogenaurach (12 miles outside Nuremberg); developed new business that would make shoes to be worn only for sports; 1928 - athletes wore special shoes for first time at the 1928 Olympic Games in Amsterdam; mid 1930s - made 30 different shoes for eleven sports, workforce of almost 100 employees; became the world's leading sports shoe manufacturer; 1936 - Jesse Owens won four gold medals in Berlin Olympics, wore dark Dassler spikes; April 1948 - Adi, Rudolph Dassler dissolved partnership; August 18, 1949 - registered as Adidas AG (combination of first and last name); registered Three Stripes trademark; 1954 - Germany won the Soccer World Cup, German team wore adidas; February 19, 1957 - Ad Dassler, doing business as Adidas Sportschuhfabriken Adia Dassler registered "Adidas" trademark (the mark with the three stripes"; 1990 - Bernard Tapie (corporate turnaround specialist) acquired 80% of Adidas stock for $320 million; February 1993 - acquired from Credit Lyonnais by Robert Louis-Dreyfus, former head of Saatchi and Saatchi P.L.C., British advertising group (1992 -Tapie unable to pay interest on his loan); December 1997 - Adidas AG acquired Salomon Group (world's leading manufacturer of winter sports products), corporate name changed to Adidas-Salomon AG; January 31, 2006 - competed acquisition of Reebok.
Adolf (Adi) Dassler - founder Adidas (http://dripdropmag.files.wordpress.com/2009/09/adidassler1.jpg)
1922 - Albert W. Allen established small shoe company in Belgium, WI; William Edmonds joined few years later, formed Allen-Edmonds Shoe Company; 1980 - acquired by John Stollenwerk; Jul 22, 2006 - acquired by private equity firm Goldner Hawn Johnson & Morrison Inc. (Minneapolis, MN) for $123 million.
Albert W. Allen - Allen-Edmonds Shoe Company (http://www.allenedmonds.com/heritage/Heritage_Database/20s1.jpg)
1928 - Trafton Cole, Eddie Haan introduced first shoe, "Trafton" (first to carry hand-stamped Cole-Hahn label), in Chicago; 1975 - label acquired from E.E. Taylor Corp. by Chairman Emeritus George Denney (started as leather handcutter at E.E. Taylor Corp. in Maine);; 1979 - introduced first women's footwear collection; 1982 - introduced driving shoe (originally a Brazilian concept) to American market; opened first retail store in Freeport, ME; May 1988 - acquired by Nike, Inc. for $95 million.
1932 - Berko and Minnie Rubin established Liverpool Shoe Co. to sell footwear to Britain's retail chains; 1936 - incorporated; 1946 - acquired first manufacturing operation, Merrywell Shoes; 1964 - went public; 1969 - R. Stephen Rubin (son, 31) assumed control; 1971 - acquired Pentland Maritime Shipbrokers Ltd.; 1973 - name changed to Pentland Industries Ltd.; 1979 - acquired U.K. license to the Pony footwear brand; over £25 million in annual sales, more than £1 million in pre-tax profits; 1981 - acquired 55.5% interest in Reebok USA Ltd. Inc. (North American licensee of J.W. Foster & Sons Inc., world's oldest shoe company) for $77,500; 1984 - with Paul Fireman acquired Reebok International (and worldwide rights to Reebok brand) from founding Foster family for $700,000 (1986 Reebok sales of $919 million, 34% share of American athletic footwear market); 1990 - Pentland's sales of £743.45 million ($1.3 billion), after-tax net of £29.91 million ($53.39 million); February 1991 - sold 18% of equity back to Reebok for$460 million; 1990 - acquired significant stake in Authentic Fitness Corporation (North American licensee of Speedo brand); acquired 80% stake in Speedo (Europe) Ltd.; 1991 - acquired complete ownership of Speedo International, Speedo Australia (accounted for 65% of competitive (vs. fashion) swimsuits sold worldwide; July 1991 - acquired Pony International Inc. (global shoe, sportswear subsidiary of Adidas AG); 1993 - acquired controlling 80% interest in Pony USA; 1992-1996 - acquired outright, or controlling stakes in, nine major sporting goods brands.
R. Stephen Rubin - Pentland (http://news.bbc.co.uk/ olmedia/435000/images/_437441_ stephenrubin150ap.jpg)

1935 - Paul Sperry

experimented with various sole designs for superior traction (after observing his dog's grip on icy surfaces); developed the "Top-Sider"; struck manufacturing deal with Converse

February 7, 1943 - The US government announced that shoe rationing would go into effect, limiting consumers to buying three pairs per person for the remainder of the year; October 30, 1945 - U.S. government announces end of shoe rationing.

1948

- Rudolf Dassler (brother of Adidas founder) founded a rival company, 'Ruda', changed to PUMA Schuhfabrik Rudolf Dassler; PUMA Atom, PUMA?s first football shoe, introduced; 1959 - company changed to limited partnership status, named "PUMA-Sportschuhfabriken Rudolf Dassler KG"; October 19, 1965 - registered "Puma" trademark (sport shoes); 1968 - PUMA is the first manufacturer to offer sports shoes with Velcro fasteners; 1986 - PUMA limited partnership transformed into a stock corporation; 1993 - Proventus/Aritmos B.V. became majority shareholder of PUMA AG Rudolf Dassler Sport.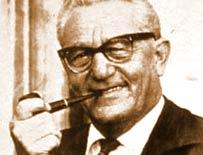 Rudolf Dassler - PUMA (http://im.rediff.com/ sports/2005/nov/08puma.jpg)
September 1, 1949 - Kihachiro Onitsuka started Onitsuka Co., Ltd., athletic footwear company, in Kobe, Japan; manufactured basketball shoes from his living room; expanded into other lines of sports shoes; May 1953 - opened Tiger Rubber Factory in Kobe; June 1957 - Tiger Rubber Factory reorganized into Onitsuka Co., Ltd.; February 1964 - went public; July 21, 1977 - merged with GTO Co., Ltd, manufacturer of sports wear and goods, and JELENK Co., Ltd, manufacturer of sports wear, renamed ASICS Corporation (acronym from Latin "Anima Sana In Corpore Sano" - ancient ideal of "A Sound Mind in a Sound Body") on belief that best way to create healthy, happy lifestyle is to promote total health and fitness; introduced products in U.S.; January 8, 1908 - Onitsuka Co., Ltd. registered "ASICS" trademark first used December 23, 1976 (sports bags for general use); July 1981 - established ASICS Tiger Corporation to develop American market; May 1990 - opened Research Institute of Sports Science.
Kihachiro Onitsuka - Asics (http://www.asicseurope.com/shared/img/page/Mr_Onitsukasmall_05a53.jpg)
May 23, 1950 - Tony Lama (El Paso, TX) registered "Tony Lama" trademark first used December 2, 1923 (boots, shoes [and sandals]).
1958 - Harold Alfond bought old woolen mill in Dexter, ME; founded Dexter Shoe Co. (had founded Norrwock Shoe Company in 1940, sold it for more than $1 million in 1944); at peak, manufactured more than 36,000 pairs of shoes daily, 7.5 million annually; 1971 - opened factory outlet store at Dexter plant, sold imperfect shoes, discontinued lines; first of nationwide chain of 80 stores; July 13, 1976 - registered "Dexter" trademark first used in March 1962 (men's and somen's shoes, not including rain shoes); 1977 - established Harold Alfond Foundation, Maine's first private foundation; 1978 - acquired minority interest in Boston Red Sox; 1993 - acquired by Berkshire Hathaway for $420 million; 2007 - Payless ShoeSource Inc. became exclusive U.S. seller of Dexter brand shoes.
Harold Alfond - Dexter Shoe Co. (http://www.maine.gov/sos/kids/about/images/alfond.jpg)

1962 - Phil Knight wrote research paper at Stanford Business School, asserted that low-priced, high-performance well-merchandised exports from Japan could replace Germany's domination of the U.S. athletic shoe industry; December 1963 - first shipment of Tiger shoe samples arrived; January 25, 1964 - Phil Knight, Bill Bowerman founded Blue Ribbon Sports, put up $500 each, put in first order for running shoes from Onitsuka Tiger Company in Japan (became Asics); April 1964 - first shipment of 300 pairs sold out in three weeks; December 26, 1967 -

BRS, Inc. incorporated as successor to Blue Ribbon Sports partnership; 1971 - Portland State graphic design student Carolyn Davidson created Swoosh trademark for a $35 fee; Jeff Johnson, Nike's first employee, dreamt of Nike, Greek goddess of victory, gave Blue Ribbon Sports the name of its new brand of footwear; 1972 - moved from shoe distributor to designer, manufacturer; introduced 'Moon Shoe" at 1972 U.S. Olympic Track & Field Trials (Bowerman used wife's waffle iron, heated, poured rubber compound to mold sole of shoe that had better traction); 1973 - American record-holder Steve Prefontaine became first major track athlete to wear Nike brand shoes; February 19, 1974 - BRS, Inc. (Beaverton, OR) registered "Nike" trademark first used June 18, 1971 (athletic shoes with spikes and athletic uniforms for use with such shoes); 1978 - company renamed Nike Inc.;

July 6, 1982

- BRS, Inc. Corporation (Beaverton, OR) registered Swoosh trademark first used

June 18, 1971 (footwear);

September 3, 2003

-

completed the acquisition of Converse, Inc. for approximately $305 million.
Phil Knight - Nike (http://s3.amazonaws.com/nikeinc/executives/109/hiRes_Phil_Knight_preview.jpg?1337367632)
1965 - Martin Michaeli established Mephisto in Sarrebourg, France; 1984 - first concept store opened in Aachen, Germany; first foreign subsidiary in Japan; 1987 - distribution in the United States; 1995 - 150th Mephisto concept store opened (350 by 1998).
1982 - Bruce Kilgore, now Director of Advanced Research and Development at Nike, designed Air Force 1 sneakers for Nike; first basketball shoe to use the Nike Air technology (Nike Air cushioning); 1983 - discontinued; 1986 - re-released with modern italic Nike logo, swoosh on bottom on back of shoe; 2005 - estimated 12 million pairs sold in peak year (10-11 million in 2007); Nike's most popular, sales of about $800 million a year; top selling model of Nike shoes, only behind Converse Chuck Taylor All-Stars (first produced in 1917, 750 million pairs sold in 144 countries), Adidas Superstars (introduced in 1969) for most sold sneaker model in history.
September 1985 - Reebok agreed to pay $118 million in cash for privately-owned walking-shoe manufacturer Rockport
June 23, 2007 - Personal spending on shoes per capita: Hong Kong ($325 - highest average in world), Italy ($309 - highest in Europe), Greece ($245), US ($222), Kuwait ($166), United Arab Emirates ($159 - highest in Middle East), Canada ($139).
(source: Euromonitor International Florsheim; Hannah Fairfield/New York Times; http://graphics8.nytimes.com/images/2007/06/23/business/shoe-graph.jpg)
May 22, 2011 - Labelux, privately held luxury group (division of Joh. A. Benckiser, investment arm of Reimann family),agreed to acquire Jimmy Choo, high-end shoe and accessories company, from TowerBrook Capital Partners (acquired company in 2007), private equity firm, and minority shareholders for undisclosed sum (120 stores, valued company at about $800 million).
(Bata Shoe), Tomas Bata; translated by Jan Baros; foreword by John F. Bartos (1942). How I Began. (Batanagar, Bengal: Club for graduates of Bata School, 332 p. [2nd ed.]). Shoemakers; Bata, Tomás, 1876-1932.
Tomas Bata
(http://upload.wikimedia.org/wikipedia/commons/c/c9/Tomas_Bata.jpg)
(Bata Shoe), Antonin Cekota (1968). Entrepreneur Extraordinary: The Biography of Tomas Bata. (Rome, Italy: Edizioni Internazionali Sociali, 383 p.). Bata, Tomas; footwear -- history; entrepreneurship.
(Bata Shoe), Thomas J. Bata & Sonja Sinclair (1991). Bata Shoemaker to the World. (Toronto, ON: Stoddard, 341 p.). Bata Shoe Company -- History; Bata, Tomás, 1876-1932; Bata, Thomas, 1914-2008.
(Bata Shoe), Tomas Bata (reflections and speeches); foreword by Milan Zeleny; introduction by Thomas J. Bata; translation by Otilia M. Kabesova. (1992). Knowledge in Action: The Bata System of Management. (Washington, DC: IOS Press, 254 p.). Bata, Tomás, 1876-1932; Bata Shoe Company -- History; Management; Organizational behavior; Industrial management -- Employee participation; Footwear industry -- Czech Republic -- History.
(C & J. Clark), Kenneth Hudson (1968). Towards Precision Shoemaking: C. & J. Clark Limited and the Development of the British Shoe Industry (London, UK: Newton Abbot, David & Charles, 109 p.). C. & J. Clark Ltd.; Shoe industry--Great Britain--History.
(C. & J. Clark), George Barry Sutton (1979). A History of Shoe Making in Street, Somerset : C. and J. Clark 1833-1903. (York, UK: Sessions, 208 p.). C. & J. Clark Ltd.--History; Shoe industry--England--Street (Somerset)--History.
(Jimmy Choo Ltd.), Lauren Goldstein Crowe and Sagra Maceira de Rosen (2009). The Towering World of Jimmy Choo: A Glamorous Story of Power, Profits and the Pursuit of the Perfect Shoe. (New York, NY: Bloomsbury, 240 p.). Fashion Journalist; Head of the Luxury & Retail division of Reig Capital Group. Choo, Jimmy, 1961-; Mellon, Tamara, 1967-; Women's shoes --Design --20th century; Fashion design --History --20th century; Fashion. How Jimmy Choo brand got to where it is - love, hate, sex, fashion, finance, drugs, celebrity, power, intrigue, ambition.
(Converse Rubber Shoe Company), Elizabeth Kaufman (1966).
American Story

. (Penobscot, ME: Traversity Press: Penobscot, Me., Traversity Press, 114 p.). Sister of Converse Owner. Converse Shoe Company, Kaufmann, Mitchell B.

1929 - acquired Converse from Marquis M. Converse; 1931 - died of heart attack while on hunting trip.
Marquis M. Converse -
Converse Rubber Shoe Company

(http://www.astore-shop.de/Bilder/artikel/converse/marquis_m_converse.jpg)
(Converse Rubber Shoe Company), Abraham Aamidor (2005). Chuck Taylor, All Star: The True Story of the Man Behind the Most Famous Athletic Shoe in History. (Bloomington, IN: Indiana University Press, 200 p.). Staff Writer (The Indianapolis Star). Taylor, Chuck, 1901-1969; Basketball players--United States--Biography. "Most famous name in sports that no one knows anything about."
(DC Shoes), Ed. Eric Blehm (2003). Agents of Change: The Story of DC Shoes and Its Athletes. (New York, NY: ReganBooks, 256 p.). DC Shoes (Firm); Businesspeople--United States--Biography; Skateboarding--United States.
(Dr. Scholl's), William H. Scholl (1995). Foot Doctor to the World. (Ware, Hertfordshire, UK: Old Hall, 165 p.). Nephew of Dr. Scholl, Former President of International Consumer Products Division (Schering-Plough Corp.). Scholl, William Mathias, 1882-1968; Scholl, William Mathias, 1882-1968; Orthopedists--United States--Biography; Humans Feet.
Dr. William Mathias Scholl (http://www.scholl.com/images/scholl-uk/assets/Content%20Page%20Headers/SchollShopC3Heritage01.jpg)
(Endicott Johnson), William Inglis (1935). George F. Johnson and His Industrial Democracy. (New York, NY: Huntington press, 306 p.). Johnson, George Francis, 1857- ; Endicott Johnson Corporation.
(Endicott-Johnson), Ed Aswad and Suzanne M. Meredith (2003). Endicott-Johnson. (Portsmouth, NH: Arcadia, 128 p.). Johnson, George F. (George Francis), b. 1857; Endicott Johnson Corporation--History--Pictorial works; Shoe industry--New York (State)--Encicott--History--Pictorial works; Company towns--New York (State)--Endicott--History--Pictorial works; Endicott (N.Y.)--History--Pictorial works. Emerged from Lester Brothers Company (1854); lives of early-twentieth-century factory workers, men who guided corporation; EJ brand of "welfare capitalism".
(Hamilton-Brown Shoe Company), John T. M. Johnston, Harry Lewis Bailey (2000). The Life of A.D. Brown: The History of the Greatest Shoe Merchant in the World. (Books for Business, 220 p.). Brown, Alanson D.; Shoe Manufacturing; shoe industry--St. Louis.
(John Lobb), Brian Dobbs (1972). The Last Shall Be First: The Colourful Story of John Lobb the St. James's Bootmakers. (London, UK: Elm Tree Books, 147 p.). John Lobb (Firm); Footwear industry--Great Britain--History.
(Justin Boot), Irvin Farman (1996). Standard of the West: The Justin Story (Fort Worth, TX: Texas Christian University Press, 260 p.). Justin, H. J., 1859-1918; Justin Industries--History; Justin Boot Company--History; Industrialists--Texas--Biography; Cowboy boots; Footwear industry--Texas--History; Spanish Fort (Tex.)--History; 2000 - acquired by Warren Buffett for $600 million.
(Kinney G. R. Co.), Edward Holloway (1955). Kinney Shoes: The First Sixty Years, 1894 to 1955 (240 p.). G. R. Kinney Co.
(Manolo), Colin McDowell (2000). Manolo Blahnik. (New York, NY: HarperCollins, 200 p.). Fashion Historian and Writer. Blahnik, Manolo, 1942- ; Shoemakers--England--Biography. Man behind label.
Manolo Blahnik - Manolo (http://images.askmen.com/ men/business_politics_60/pictures_60/manolo_blahnik/manolo_blahnik_150c.JPG)
(Morlands), Russell McDonough (1962). Sheep into Shoes: The Development of Warm-Lined Footware. (Glastonbury, UK: Morlands, 64 p.). Morlands; Footwear industry--Great Britain--History. llustrated history of Morlands warm-lined footwear (on retirement of H F Scott Stokes after 40 years).
(Nunn-Bush Shoe Company), Henry Lightfoot Nunn (1953). The Whole Man Goes to Work; The Life Story of a Businessman. (New York, NY: Harper, 214 p.). Nunn-Bush Shoe Company.
(Queen Quality Shoes), Barry Hadfield Rodrigue (1994). Tom Plant: The Making of a Franco-American Entrepreneur, 1859-1941. (New York, NY: Garland Pub., 276 p.). Plant, Tom, 1859-1941; Shoe industry--United States--Biography; French Americans--Biography; Entrepreneurship--United States--Biography.
(Red Wing Shoe Company), Patrice Avon Marvin, Nicholas Curchin Vrooman (1986). Heart and Sole: A Story of the Red Wing Shoe Company. (Red Wing, MN: The Company, 293 p.). Red Wing Shoe Company--History; Red Wing (Minn.)--History.
(Shoe Biz), Jerry Miller (1984). The Wandering Shoe (New York, NY: My Goodfriends, 308 p.). Miller, Jerry; Shoe Biz (Firm) -- Biography; Businessmen -- United States -- Biography.
(Vans), Doug Palladini; foreword by Steve Van Doren (2009). Vans: Off the Wall — Stories of Sole from Vans Originals. (New York, NY: Abrams, 208 p.). Founding Editor of Snowboarder magazine; 2006 Marketer of the Year (BrandWeek). Vans (Firm); Sneakers --Collectors and collecting; Sneakers --Pictorial works. How casual canvas shoe, do-it-yourself spirit turned pop culture inside out; how action sports brand changed face of pop culture.
Mary H. Blewett (1988).
Men, Women, and Work: Class, Gender, and Protest in the New England Shoe Industry, 1780-1910
. (Urbana, IL: University of Illinois Press, 444 p.). Social Historian (University of Massachusetts Lowell). Shoe industry--New England--Employees--History--19th century; Shoe industry--New England--History--19th century; Working class--New England--History; New England--Economic conditions.
Jurgen Blumlein, Daniel Schmid, and Dirk Vogel (2009). Made for Skate: The Illustrated History of Skateboard Footwear. (Berkeley, CA: Gingko Press, 400 p.). Skateboarding--United States; Skateboarding--equipment--history. History, styles of skate shoe; companies that made them, skaters who wore them; how design advancements added protection, functionality; shoes that emerged throughout almost five decades of skate history.
Claudio R. Boer, Sergio Dulio (2007). Mass Customization and Footwear: Myth, Salvation or Reality? (New York : Springer: New York : Springer, 177 p.). Director of ICIMSI the Institute for Computer Integrated Manufacturing for Sustainable Innovation; Technical Consultant for ANCI (the Italian Association of Footwear Manufacturers) and ASSOMAC (the Italian Association of shoe machinery producers). Footwear industry; Mass customization. Application of mass customization in particular industry; analysis of relevant case studies of early mass customizers in footwear, how "mature" manufacturing sector can be renovated in business, mentality.
Alan Dawley; with a New Preface (2000). Class and Community: The Industrial Revolution in Lynn. (Cambridge, MA: Harvard University Press, 301 p. [orig. pub. 1975]). Professor History (The College of New Jersey). Shoemakers--Massachusetts--Lynn; Social classes--Massachusetts--Lynn; Shoe industry--Massachusetts--Lynn.
Bobbito Garcia (2003). Where'd You Get Those? New York City's Sneaker Culture: 1960-1987. (New York, NY: Testify Books, 280 p.). Cultural Critic, Contributing Editor - Vibe Magazine, DJ. Sporting goods industry--United States--History.
Jon Press (1989). The Footwear Industry in Ireland 1922-1973. (Blackrock, IR: Irish Academic in association with C. & J. Clark, 229 p.). Footwear industry--Ireland; Ireland--Economic conditions--1918-1949; Ireland--Economic conditions--1949-.
Harold R. Quimby (1946). Pacemakers of Progress; the Story of Shoes and the Shoe Industry (Chicago, IL: Hide and Leather Publishing Co., 346 p.). Shoe industry--History; Footwear industry--United States.
Eds. Giorgio Riello and Peter McNeil (2006). Shoes: A History from Sandals to Sneakers. (New York, NY: Berg, 448 p.). Research Officer in Global History at the London School of Economics; Professor of Design History, University of Technology, Sydney. Shoes--History. History of shoes, from eroticism of ancient shoe lacing, medieval fears about long-toed shoes, role of shoes in religious ritual to infamous Chopine with a 23-inch heel and the modern cult of shoe designers.
Ross Thomson (1989). The Path to Mechanized Shoe Production in the United States. (Chapel Hill, NC: University of North Carolina Press, 296 p.). Shoe industry--United States--History.
Tom Vanderbilt (1998). The Sneaker Book: Anatomy of an Industry and an Icon. (New York, NY: New Press, 177 p.). Footwear industry; Sneakers; Athletic shoes.
___________________________________________________________
Business History Links
The Bata Museum http://www.batashoemuseum.ca/
Toronto museum "celebrates the style and function of footwear" from ancient times to the present. The site features brief illustrated essays on footwear with sections on North American Indians, the circumpolar region, and the rest of the world; a history of Western shoe fashions; and footwear of famous people. Also includes information about exhibits, a history of the museum, and fun facts about shoes.